Calculators and other items for sale
Unknown Brand "Credit Card" Calculator
Identifier
Description
Price
1-22
Unknown Brand "Credit Card" Calculator
USD9.95
This simple four-function calculator's only claim of fame is that it is credit card sized.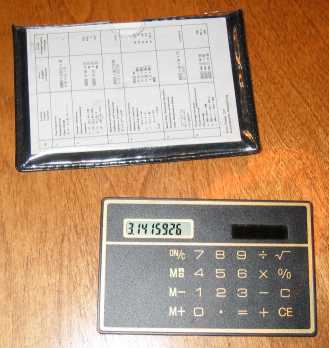 Well, almost: it has the same width and height as a credit card, but unlike Casio's legendary SL-800, it has twice the thickness. Nevertheless, it is a useful little machine, and it comes complete with a small instruction sheet and a plastic holder (presumably not original; looks like a business card holder to me.)
The machine is fully functional of course. Battery terminals... what battery terminals? This machine has no batteries, it runs on solar power.
---
| | | |
| --- | --- | --- |
| | | This Web page copyright ©2005-2020 Viktor T. Toth |